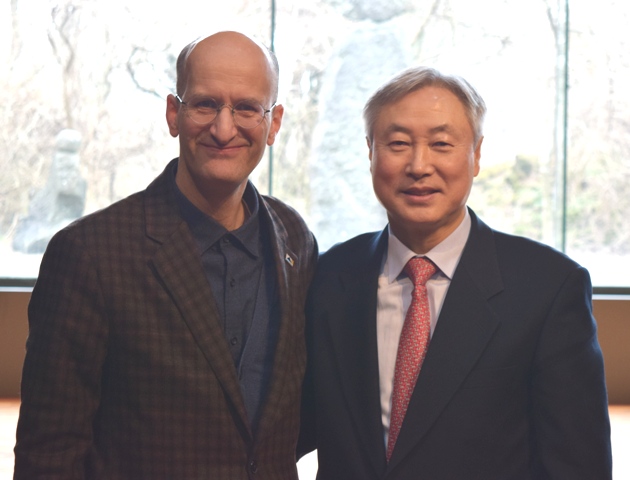 ▲ Emanuel Pastreich (left) with Ambassador Shin Hyun-suk at Jeju Stone Park. Photo courtesy CIFAL-Jeju.


Eighty-six students from 36 universities nationwide joined 'Nature, Culture, And Youth', Cifal Jeju's 7th Youth Workshop held Feb 17 to 19 at Jeju Stone Park and around the island.

The workshop, sponsored by Jeju province and Jeju National University, invited university students from across the country to find creative responses to the sustainability challenges of the 21st century.

Across the three days students learnt about the values of sustainable tourism and waste disposal and took part in a "Clean Olle" event in Jeju City.

American academic Emanuel Pastreich, author of 'Another Korea That Only Koreans Don't Know About,' was invited to give a 'talk concert' on Friday, Feb 19, at the 500 Generals Gallery, Jeju Stone Park.

Pastreich spoke on the lessons that Korean tradition can teach modern society, telling students that solutions for our future can be found in our past.

"We should take the good things from the past, and that's the way to success. I believe that this is what you, the young generation, are capable of," said Pastreich.

The Harvard, Tokyo and Yale graduate is an expert in East Asian studies and he urged Koreans to learn from their forebears in areas such as organic farming.

"Korea, in the early 19th century, had the most advanced system with its sustainable agriculture and ecological strengths. Agriculture is for the future. This is not about restoration or nostalgia for the past," he said.

Pastreich not only called on Koreans to take more pride in their traditional culture, but also to be more mindful of the wasteful and materialistic culture that popular culture promotes worldwide.

"As for the Korean Wave, we should take it seriously and not regard it as merely a fun business. It is about creating a new culture and civilization," he said.

After the talk, Pastreich took questions from the audience. One student asked how students can raise awareness around these key sustainability issues.

Pastreich said that everyone must start with themselves, quoting anthropologist Margaret Mead: "Never doubt that a small group of thoughtful, committed citizens can change the world; indeed, it's the only thing that ever has."

He added: "A gathering of five or six friends is more powerful than a president or just a policy. Even Gandhi said he only had five or six friends who were with him but, as you know, that was enough."

Another student then asked how youths can realize progressive change in the face of the "harsh reality" of a highly competitive society.

"The answers are very simple. You have to build deep relationships with your friends. They are not your rivals, but your lifelong friends. You have to strengthen this lifelong relationship so that you can rely on each other."

"Then, you have to enhance your ability to adapt to changes. According to Darwin's theory, the species that survives is not the strongest but the most adaptable to the environment."



Established in 2010, CIFAL-Jeju (also known as Jeju International Training Center) is affiliated with the United Nations Institute for Training and Research (UNITAR) local development program and shares South Korea's expertise in green growth and human security across the region.

Shin Hyun-suk, former Ambassador to Cambodia and Jordan, became director of CIFAL-Jeju in January, 2015.