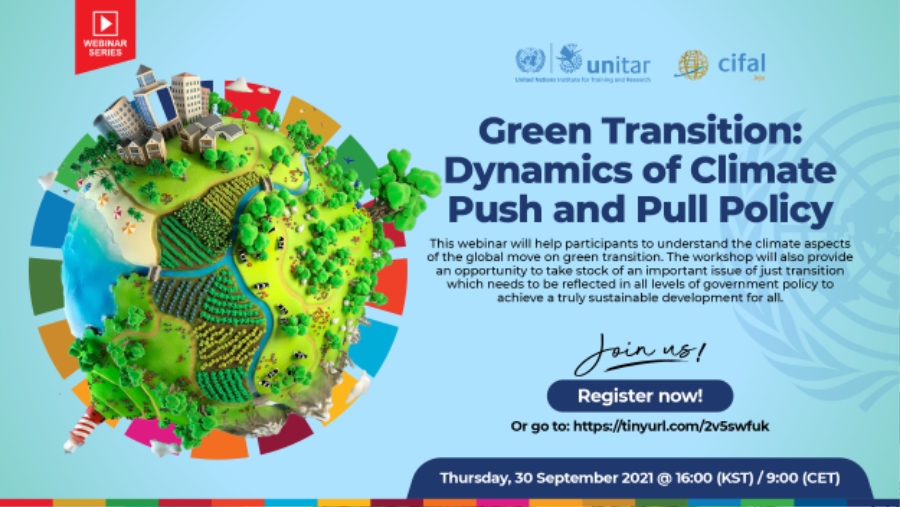 Green Transition:
Dynamics of Climate Push and Pull Policy
30 September & 5 October 2021
Background
Transitioning to a greener economy and society requires a holistic transformation. The international community has already taken bold steps towards sustainable transition, targeting mainly green technology, environmentally friendly industry and transport and cleaner air. Some regional blocs and countries have announced Green Deal packages to commit themselves and encourage other parts of the world to join the effort towards sustainable pathways. The European Union's Green Deal aims to make Europe the first climate neutral continent by 2050, turning environmental challenges into opportunities that would enable a just and inclusive transition for all[i]. Republic of Korea also presented its ambitious Green New Deal to boost the economy and protect the environment at the same time.
Yet, the level and scale of challenges posed by climate change is not negligible. Governments around the world have put in place a number of climate policies to lessen global dependency on fossil fuel and carbon-intensive industries and to stimulate changes in production and consumption pattern. The so-called climate 'push' and 'pull' policies are usually implemented together to maximise the government's drives, and such dynamics of climate policy measures are believed to help accelerate green transition. Climate 'push' policies can often be understood as regulatory measures and standards, while the examples of climate 'pull' policies include financial incentives and subsides.
Bearing this in mind, green transition, especially in the post-COVID 19 pandemic economy, would be only achieved through ensuring perspectives on a just, inclusive and sustainable society in all solutions and approaches. When countries around the world strive to build forward better, policies that accelerate climate action are expected to contribute to thriving and resilient communities where no one is left behind. In this regard, this webinar will help participants to understand the climate aspects of the global move on green transition. The workshop will also provide an opportunity to take stock of an important issue of just transition which needs to be reflected in all levels of government policy to achieve a truly sustainable development for all.
Guiding Questions
What are the key roles of climate policy in successfully achieving green transition?

How the climate push (regulatory influence) and pull (market pressure) policies interact with each other to support green transition?

What can be the challenges and opportunities that we can expect in the pathways towards just and inclusive transition?
Event Objectives
For the capacity building, this event will:
Offer a venue for knowledge sharing and discussion on global movement on green transition, with a focus on climate policy;

Provide an opportunity for policy makers and sector experts in the Asia-Pacific region to learn new case and identify best practices;

Promote a learning atmosphere and establish a strong network which can be utilized after the workshop.
Learning Objectives
After the event, participants will be able to:
Raise awareness on a just, inclusive and green transition;

Understand the linkage between policy actions for successful green transition and achieve
the sustainable development goals for all;

Expand networks and identify partners with expertise to assist governments to improve their practices.
Target Audience
Government officials and personnel from non-profit, civil, and private sectors in Asia and the Pacific region who work on climate policies and projects related to green transition
Program Agenda (tentative)
Week

Time

Details

Session 1

(September 30, Thursday)

110 min

UNITAR

CGN Webinar

Series

16:00 KST

(10 mins)

Opening & Welcome Remarks

- Alex Mejia

- Hong-ghi Choi

16:10 -17:10

(20 mins * 3)

Presentation

- Climate Push Policy (Regulatory Influence)

- Climate Pull Policy (Market Pressure)

- Perspectives on Just Transition

17:10 – 17:25

(15 mins)

Meet the People (Interview video)

17:25-17:35

(10 mins)

Q&A (Interaction with Experts)

17:35-17:40

(5 mins)

Closing

Zoom link to be shared for the participants

Session 2

(October 5, Tuesday)

120 min

16:00 KST

(5 mins)

Opening

16:05 – 17:05

(60 mins)

Virtual Exhibition

Participant's presentation of their artwork
(5 min each)

17:05 – 17:25

(20 mins)

Cityshare Tutorial

- Cityshare Video (15 min)

17:25 – 17:55

(30 min)

Cityshare Group Work

17:55 – 18:00

(5 min)

Q&A

Wrap-Up

Zoom link to be shared for the participants

Individual Assignment

l Self-made artwork and a one-page description of the work
Allmeetings will begin at (tentatively)16:00 KST
Requirements
Selected applicants are required to complete the followings to be eligible for a Certificate of Completion:
Attend and actively participate in all sessions

Complete individual assignment
Application and deadline
Application for the webinar only:
웨비나 등록 - Zoom
Application for Webinar + Workshop: https://bit.ly/3zaqh49
(Deadline: September 22 2021 (Wednesday)
---
[i] https://ec.europa.eu/reform-support/what-we-do/green-transition_en